Dairy produce
Millenis has been developing its dairy produce department for more than 20 years in partnership with the major French, European and International dairies.
We offer a wide range of ingredients and dairy produce for industrial applications and export distribution to consumers:
- Milk powders: skimmed (0%), whole (26%), fat filled (palm/coconut), buttermilk, milk permeate
- Rennet casein and acid casein, caseinates (sodium, etc.) and MPC 60% to 85% (Milk Protein Concentrates)
- Powder whey: sweet, sour, demineralised, fat filled (palm/coconut), delactonised, whey permeate
- WPC 35% to 85% (Whey Protein Concentrates)
- Lactose
- UHT milks
- Butters and Anhydrous Milk Fat (AMF - concentrated butter)
- Cheeses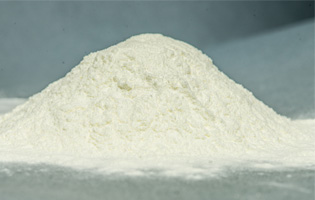 Milk is a unique and natural raw material, from which, thanks to increasingly specialised milk cracking technologies, can be produced a large number of dairy products with diverse properties suitable for almost unlimited industrial applications.