Shipping
Highly experienced and knowledgeable in the field of bulk carrier and container logistics between continents, and in particular Asia and Europe, Millenis has successfully developed a collection of solutions for bulk and container transport.
Our mission is to transport merchandise from one end of the planet to the other, in the best possible time, for the best price and in the most reliable and secure conditions.

Our presence strengthened in Asia

Our Chinese teams control the merchandise over the whole upstream network from the factories to the loading on the boats via the warehouses. In 2011, Millenis opened an office in Hong Kong to support the internationalisation of its development.
Our missions
While our Chinese teams have a role on the ground, our Hong Kong office and our head office in Nantes ensure management of the logistics and administrative operations when an order is passed, right up to its delivery.
We are in contact with many representatives, within our company and between the different partners involved in the commercial transaction.
Our values
. Flexibility of organisation and adaptability
. Respect for commitment and rapidity of the delivery of an appropriate solution
. Professionalism and perfectionism
. The personalisation of the service and partner relationships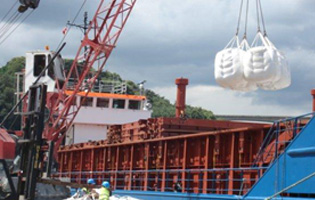 Loading big bags